Background
The accurate knowledge of the upper ocean circulation at all time and space scales is of key importance to many scientific, operational and commercial applications. ESA, together with OceanDataLab, Ifremer and NERSC is organizing a World Ocean Circulation User Consultation Meeting (UCM), to be held from 10 to 12 October 2022 in ESA -ESRIN Frascati, Italy. It aims at presenting the main outcomes of the ESA World Ocean Circulation (WOC) project https://www.worldoceancirculation.org/) and at preparing a roadmap for new initiatives on ocean circulation research and applications to be implemented in the ESA EO Science for society programme element.
Objectives
The main objective of the workshop is to bring together expert scientists, service providers and direct users to review the state-of-the-art in ocean circulation products and applications. As such the UCM will open up for discussion of key requirements for research and development activities that will address the needs of a wide range of users, define priorities and issue recommendations for shaping new ESA science and applications projects with an emphasis on evaluating where Earth Observations (EO) may contribute.
Sessions
The workshop is being organized as a series of sessions targeting specific themes. Each session will consist of invited talks, contributed oral and poster presentations, and a group discussion. The workshop will conclude with a synthesis and recommendation session.
We invite submission of abstracts contributing to the following themes:
Upper-layer circulation products development
This session will focus on the latest advances (New methods/ New algorithms/ New technologies) regarding the use of satellite observations, together with in-situ data and/or model outputs for the estimation of ocean currents, added-value products, high-level indicators.


Upper-layer circulation products use for downstream applications
This session will focus on showcasing the use of upper-layer ocean circulation for downstream applications (Maritime Transport, Navigation and offshore safety operation , Sustainable fisheries, Clean ocean, Marine Renewable Energies, …) and collecting user requirements for future developments.


Upper-layer circulation products use for scientific applications
This session will focus on showcasing the use of upper-layer ocean circulation for science-driven applications and collecting scientific users requirements for future developments.
Preliminary Programme

Please download the full draft programme HERE
The PADLET is accessible at https://padlet.com/florianleguillou94/wavn96umqgdq6xrm and will stay open for the entire duration of the meeting. It is an interactive way for you to exchange views and provide recommendations on the main scientific challenges, gaps and opportunities for future activities regarding the different Workshop topics. You are very welcome to start using it right now!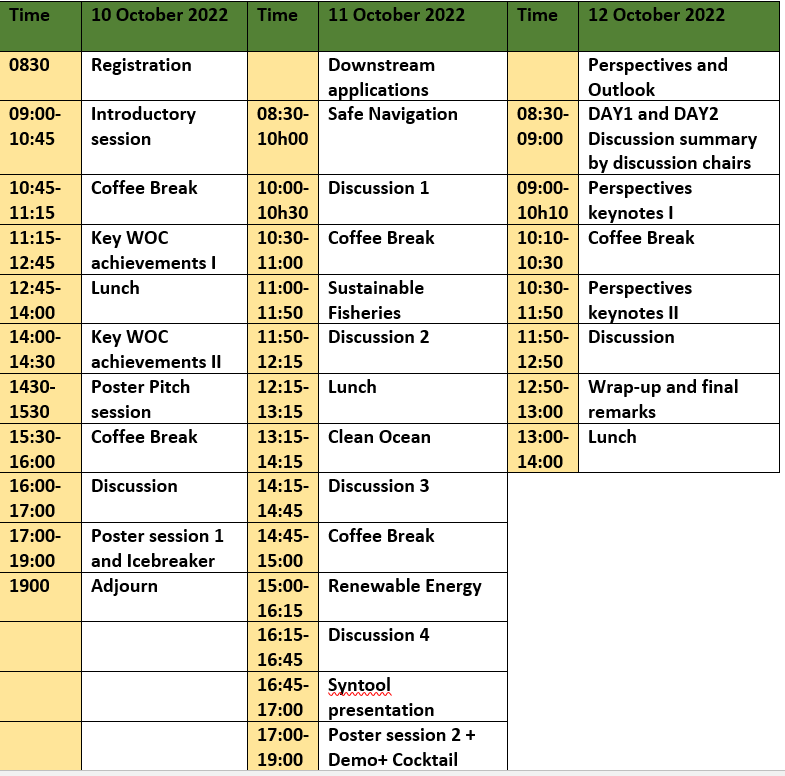 Abstracts
The Abstract submission interface is now open, and we invite you to submit your abstract HERE along with your
selection of the session and type of presentation (oral or poster) proposed
Note: Abstract length should be at least 200 words and maximum 300 words (one A4 page, single space normally contains 400-500 words).
Information about the co-authors (name, last name, affiliation, contact Email) is required
Deadlines
| | |
| --- | --- |
| Abstract submission opening | May, 12th 2022 |
| Abstract submission closure | June, 24th 2022 extended to July, 4th 2022 |
| Notification of acceptance | August, 5th 2022 |
| Issue of Preliminary Programme | September, 5th 2022 |
| Registration Opening | September, 5th 2022 |
| Registration closing | September, 30th 2022 |
| Issue of Final Programme | September, 30th 2022 |
| Workshop | October, 10-12, 2022 |
Organizing Committee
Fabrice Collard
OceandataLab
Johnny A. Johannessen
NERSC
Gilles Larnicol
Magellium
Sabrina Lodadio
Serco c/o ESA
Giuseppe Ottavianelli
European Space Agency (ESA)
Irene Renis
Serco c/o ESA
Marie-Hélène Rio
European Space Agency (ESA)
Ulla Vayrynen
Serco c/o ESA
Scientific Committee
Bruno Buongiorno-Nardelli
CNR
Gérald Dibarboure
CNES France
Lucile Gaultier
OceandataLab
Julien Le Sommer
IGE France
Pierre-Yves LeTraon
Mercator-Ocean France
Sandrine Mulet
CLS France
Ananda Pascual
CSIC, Consejo Superior de Investigaciones Científicas
Marcos Portabella
Institut de Ciènces del Mar
Erik Van Sebille
University of Utrecht
Doug Vandemark
University of New Hampshire